We are pleased to introduce you to High Point University for June's Client Spotlight Story. The PathwayU Client Spotlight Series gives us a glimpse into innovative ways our clients use the PathwayU platform across their campuses. It also allows us to reflect on the numerous ways PathwayU impacts the lives of students, faculty, alumni and more. We have a deep appreciation for our clients and the work they do to support learners through their journeys and prepare them for purposeful futures.
High Point University
Founded in 1924, High Point University (HPU) has a strong academic history and is committed to building character, modeling values, and ensuring that students graduate with not only hands-on experience in their discipline but also with the life skills necessary to be successful.
HPU is a private comprehensive institution, rooted in the liberal arts, with 5,200 undergraduate and graduate students from 48 states and 37 countries. High Point University currently offers 58 undergraduate majors, 57 undergraduate minors and 13 graduate degree programs, including doctoral programs in educational leadership, pharmacy, and physical therapy.
The mission of High Point University is to deliver educational experiences that enlighten, challenge and prepare students to lead lives of significance in complex global communities. [1]
Responding on behalf of High Point University is Bill Gentry, Ph.D., Director of High Point University's Office of Career and Professional Development.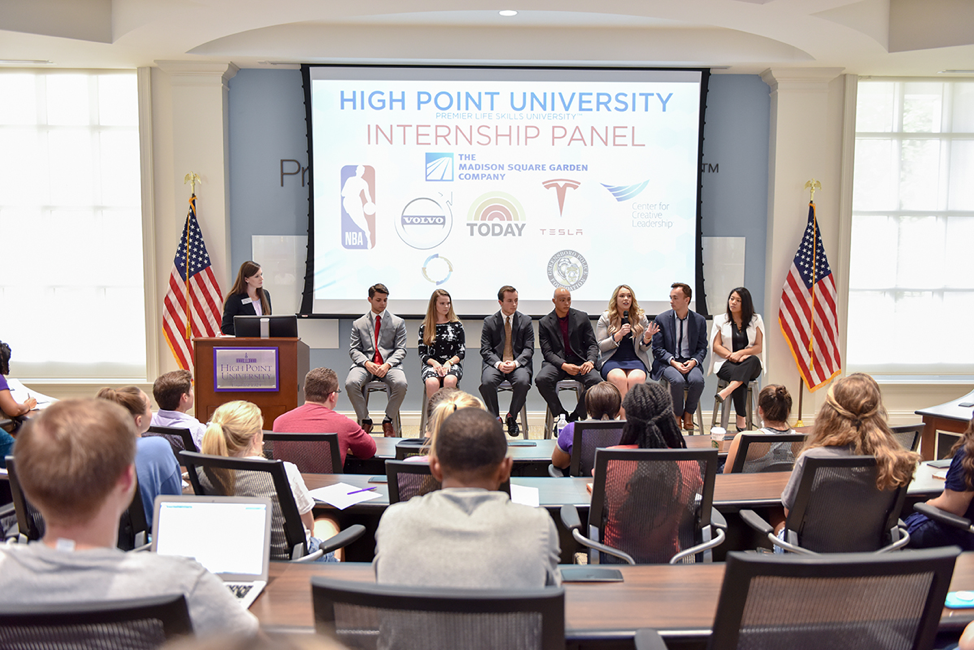 Q&A
How did you first hear about PathwayU?
I (Bill Gentry) saw it mentioned in my Twitter TL by an industrial-organizational psychologist I follow. I was new to my role as Director of Career and Professional Development at High Point University, after spending about a dozen years as a researcher and trainer of leaders. Being an industrial-organizational psychologist myself, I wanted to find a tool and platform that would help our students find their career matches and path, hold information about knowledge, skills, and abilities to understand those careers, be connected to job boards, and help students gain self-awareness (as I know that is one of the key predictors of effective leaders) all in one place. And, I wanted something that was better than what was in use before I arrived in the department. I found that immediately in jobZology and PathwayU."
How has PathwayU supported you in implementing the platform on your campus?
The folks at PathwayU have been very supportive in helping our office implement the platform on our campus to meet our students' needs. Prior to PathwayU, our Office of Career and Professional Development offered a multitude of assessments to assist students in career exploration, but PathwayU's approach is so comprehensive, we have all but eliminated other assessments from our office. PathwayU spent time and care in speaking with us to learn about our campus, students, and programs to modify the assessment to meet our unique needs. The Program Mapping feature is truly a game changer. After taking the assessment, students can see their Career Matches, as well as what programs or majors are mapped to that specific career. This has allowed our students to make connections between majors and careers and thus has helped them feel more confident in declaring a major and deciding on a career path. This would not have been possible without PathwayU taking the time to research and understand our programs.
In what ways do you use PathwayU on your campus?
We use PathwayU in one-on-one sessions, small group sessions, and classes. Often, students who are Undeclared or who are reconsidering their major or career path will meet with us one-on-one to review their assessment results together. The resources PathwayU provides, including the Understanding Your Assessment Results worksheet, help students process their results and think about what their results mean for their future career. Additionally, our Office of Career and Professional Development offers a program called "Find Your Major Friday" in which a small group of students who have completed PathwayU can discuss and process their results in group format. PathwayU is also the "red thread" throughout our EXP 1401 "Exploring your Major and Career Class" that we offer each semester. Also, faculty on our campus are supportive of PathwayU, and we have often allowed classes to take the assessment (for instance, sales classes, management classes, a finance class and a sport management class) and members of our office debrief those results to those classes. It has been fun to present to classrooms on PathwayU and engage the students in activities while processing their results as a group. Furthermore, entire organizations on our campus use PathwayU as part of their curriculum, including our Honors Scholars, Business Fellows, and Siegfried Leadership Fellows Program, with members of our office debriefing those results and facilitating the learning.
Has PathwayU helped you address gaps or improved your services at your school? If so, in what ways?
Undeclared has historically been the second most popular major for entering first-year students on our campus. Because of this, High Point University implemented an initiative called Project Discovery that supports every student in finding a good-fit major. One of the steps of Project Discovery is to work with the Office of Career and Professional Development and have our advisors work with Undeclared students through a well-defined process. Taking PathwayU and reviewing the results with a Career Advisor is a major part of that process. This has helped our Undeclared population take more initiative in the exploration process, while allowing our Career Advisors to build relationships early on and support these students often.
Did you consider other similar products or software? And, if so, why did you choose PathwayU over competitors?
As an industrial-organizational psychologist, I understand the importance of reliable, valid assessments. In my position as Director of Career and Professional Development, I wanted what was best for our students, and to assure parents that we were using the highest of caliber assessments with decades-worth of research behind it, to maximize the chances of students finding their major and career path.
Have you conducted any research to quantify how PathwayU is impacting students? If so, what did you find?
We have conducted some initial research on PathwayU's impact on the first semester of use on our campus. The initial takeaway from this data is that Undeclared students who took PathwayU in Fall 2018 were more likely to persist to the spring semester AND more likely to declare a major. That's a win, win! We are continuing to collect data on PathwayU's impact on the entire 2018-2019 academic year.
What have student reactions been to the PathwayU platform?
Students have found PathwayU to be very user-friendly and comprehensive. Students who are eager to delve right into their results on their own are able to do so immediately after completing the assessment, whereas students who need more help processing can get individualized attention from a Career Advisor who can easily pull up their results. PathwayU has helped students no matter where they are in the career exploration process, whether that's helping them see what types of major and careers fit their interests, or assisting them in narrowing down career options.
Do you have any great stories about students or staff who have benefited from using PathwayU?
One student in particular took PathwayU to help her narrow down her interests. She had already changed her major twice during her first year, and had interests in nearly 10 other academic areas! For a student like this who has so many interests, being able to see her interest types (Holland codes) ordered from top to bottom helped her put into perspective what she truly enjoys the most. In the student's Career Matches, many related careers to the majors we discussed showed up as very strong matches, but after reviewing the career descriptions, she was clearly drawn most to one area. We were then able to use the Job Board to look at actual job openings in this career field, to give her information on what employers are looking for in these types of positions. PathwayU helped this student not only decide on a major, but also narrow down career paths and become educated on how she can set herself up for success in that career.
What plans do you have for the future to promote student usage of the PathwayU platform?
In addition to the ways we are already using PathwayU, one plan to enhance the usage of the platform is to educate students on how their PathwayU results might translate to their resume, potential interview answers, and in shaping their professional and leadership brand. The results, particularly in the Personality and Workplace Preferences sections, give students an excellent insight into themselves and great language to use to describe themselves, their strengths, and their preferences. This year, we plan to take PathwayU to the next level to not only help students determine their major and career path but to facilitate strong content to help them stand out in their resumes and interviews. We believe this will attract more of our upperclassmen to use PathwayU.
Feeling inspired?
If you feel inspired by High Point University's spotlight story and would like to see PathwayU on your own campus, get connected with us here!